Metabolomics driven Sports Medicine & Mental Health
                           
          Sports medicine and mind  
"Besides pursing Proteomic - Genomic end goals, we also take interest in 'Human Endurance', 'Sports Medicine' and 'Societal Challenges' - this is our uniqueness and differentiates us from others.  There is interconnectivity between what we strive for and everyday reality.  This brings us immense excitement as well as reminds us that 'no human is limited and neither is CEEPC "
Sports Medicine, Arthroscopy and Rehabilitation
There are outstanding developments in sports and exercise medicine, traumatology, physical therapy, and rehabilitation.  One can say that from injury to return to play, involves a range of topics in sports and exercise medicine.  Research in sports traumatology, physical therapeutics, and sports medicine involves in-vivo and in-vitro investigational pre-clinical and /or clinical studies.  Scientific areas include integration of sports medicine, sports traumatology and arthroplasty, prevention and rehabilitation of sports injuries, chronic disease onset, and biomechanics. In addition, comprehensive studies and research advances pertaining to the prediction, assessment, and management of sports injuries may help an athlete to perform better or return to sport earlier after an injury. 
World Record breaking mindset 
Kenya's Eliud Kipchoge broke his own world record, lowering the time to 2:01:09 at the Berlin Marathon on Sunday 25th September 2022.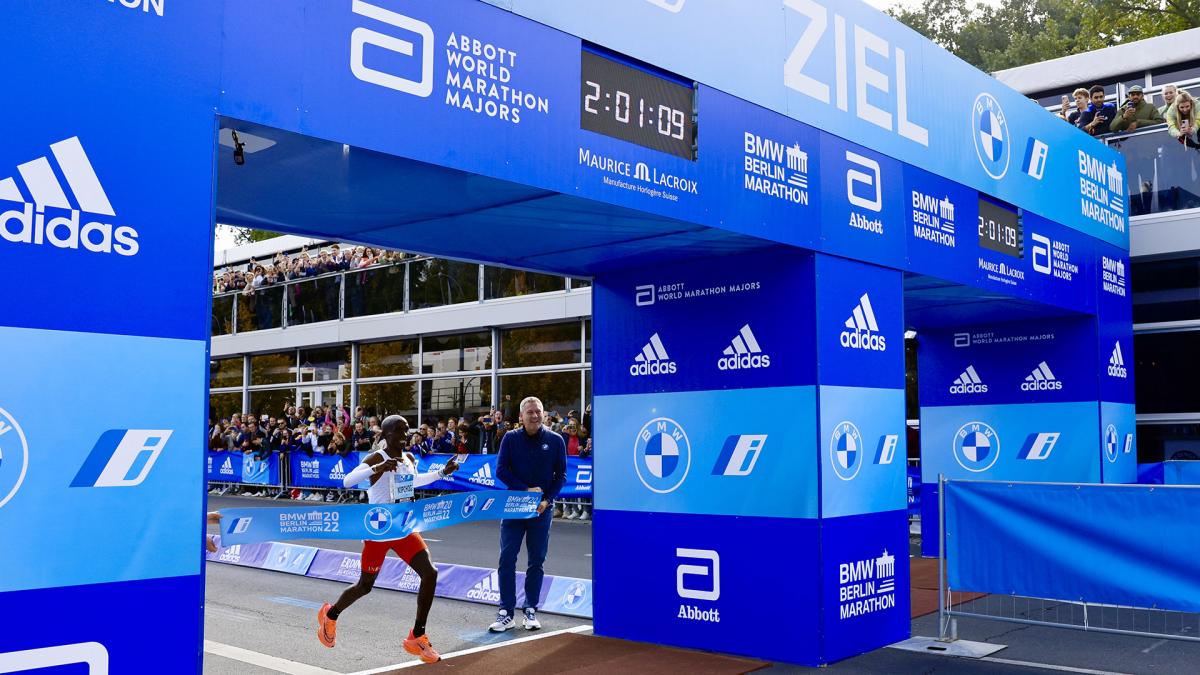 Running a marathon below 2 hours  - human endurance reality or a dream? 
It happened in Vienna, Austria   - 12th October, 2019
Eliud Kipchoge's Inspirational 1hr : 59 : 40 was the first ever sub 2 hours !
Brigid Kosgei ran a New World Best of 2:14:04 in Chicago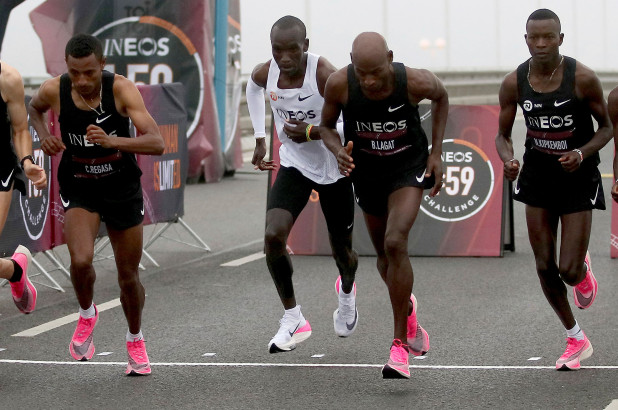 To reach the end goal, you need to know the beginning !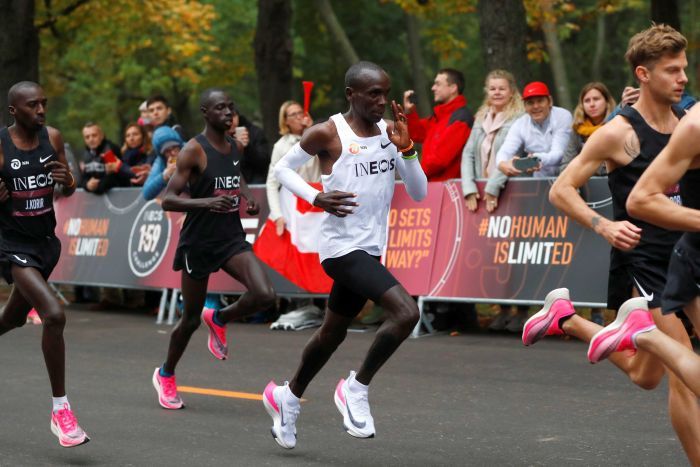 Focused & determined !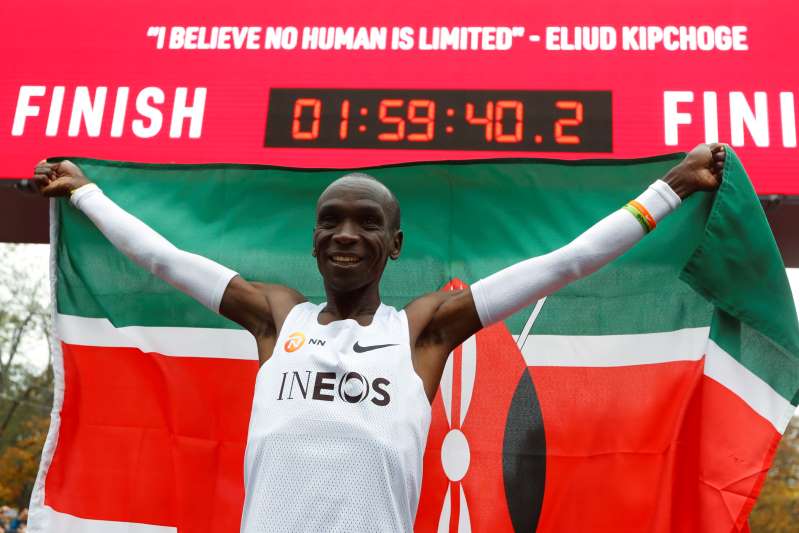 Sub 2 hours  - History in the making !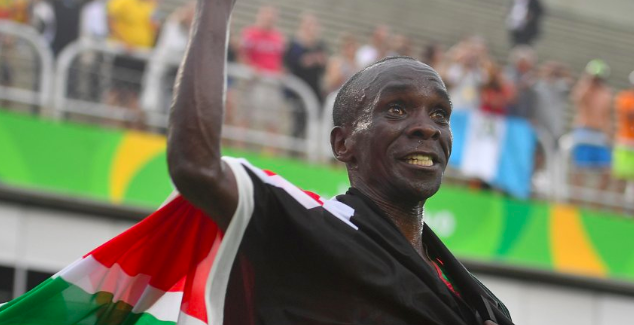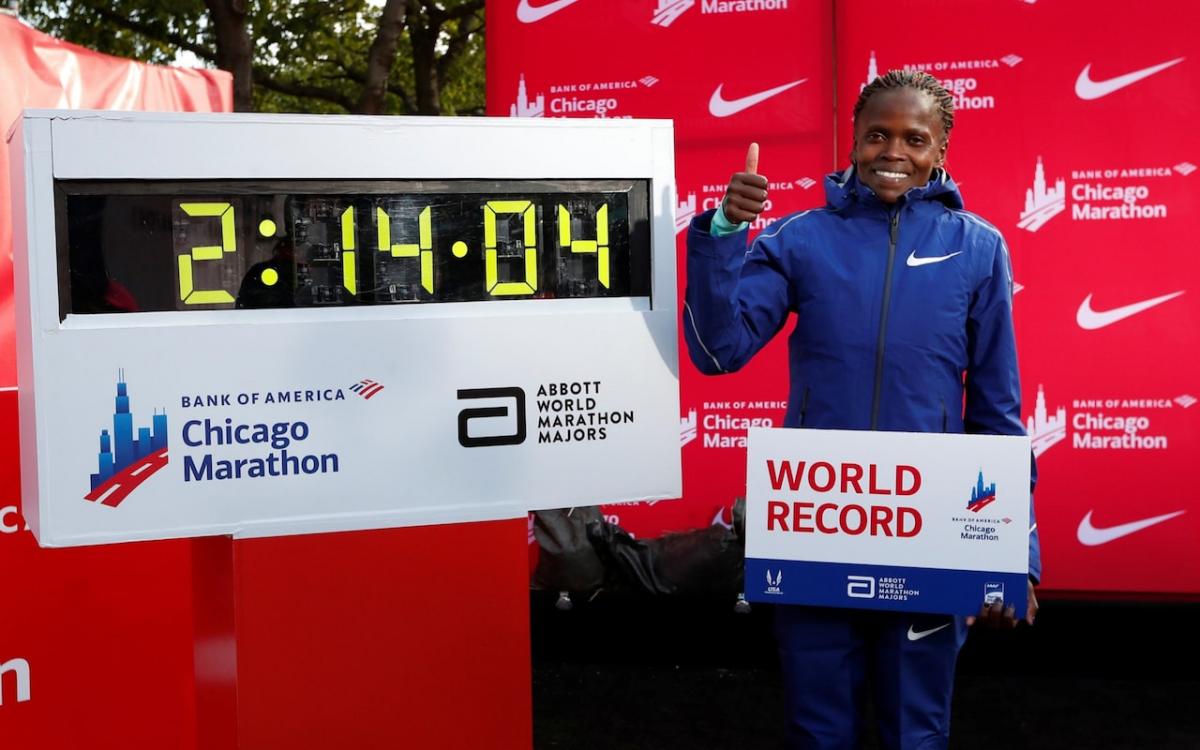 Brigid Kosgei at Chicago Marathon with a World Best of 2:14:04 
                                                                    Marathon running changed today
                    Kenya and Kenyans stand Inspired today for challenges of tommorrow !
So what does it take according to Eliud?
On self discipline:
"Only the disciplined ones are free in life. If you are undisciplined, you are a slave to your moods. You are a slave to your passions."
On preparation:
"To win is not important. To be successful is not even important. How to plan and prepare is crucial. When you plan very well and prepare very well, then success can come on the way. Then winning can come on your way."
On thinking positively:
"Pleasure in what you are doing is what puts perfection in your work—that's a quote by Aristotle."
On consistency:
"I'm confident to say that if you want to grow in a profession, consistency is the key…I'm strict about my work goals and training. When I miss one [workout session], it's like missing a discussion with your classmates, where six people are discussing a subject. If I miss one training, then I will not sleep well."
On ''mental fitness''
"Mental fitness plays a big role during competition. If you don't rule your mind, your mind will rule you. That's the way I think about this sport."
On race strategy:
"In the marathon, the first half is just a normal run. At 15 kilometers, 20 kilometers, everybody is still going to be there. Where the marathon starts is after 30 kilometers. That's where you feel pain everywhere in your body. The muscles are really aching, and only the most prepared and well-organized athlete is going to do well after that. I'll go with the pace, but after 30 kilometers, I'll change to my own pace. And if you're ready to follow me, then we can go together."
On adaptability:
"Become comfortable with being uncomfortable. Accept change."
On believing in yourself:
"I believe in what I am doing. To run a big marathon and win takes five months. When I'm on the starting line, my mind starts reviewing what I have been doing the last five months. I believe in my training, and I treat myself as the best one standing on that line."
On managing pain during a marathon and the next  day:
"When I have a lot of pain, I try to confuse my mind to forget about the pain and think about the distance. I don't want pain to be in my mind, because I'd really lose focus on running. After winning, you won't have that pain, but it comes later. The marathon is hard; the second day, you don't go up or down stairs."
Tegla Loroupe's fight for peace, women's rights, education, refugee support through sports 
Tegla Chepkite Loroupe is a Kenyan long-distance track and road runner. She is also a global spokeswoman for peace, women's rights and education. Tegla Loroupe holds the world records for 25 and 30 kilometres and previously held the world marathon record.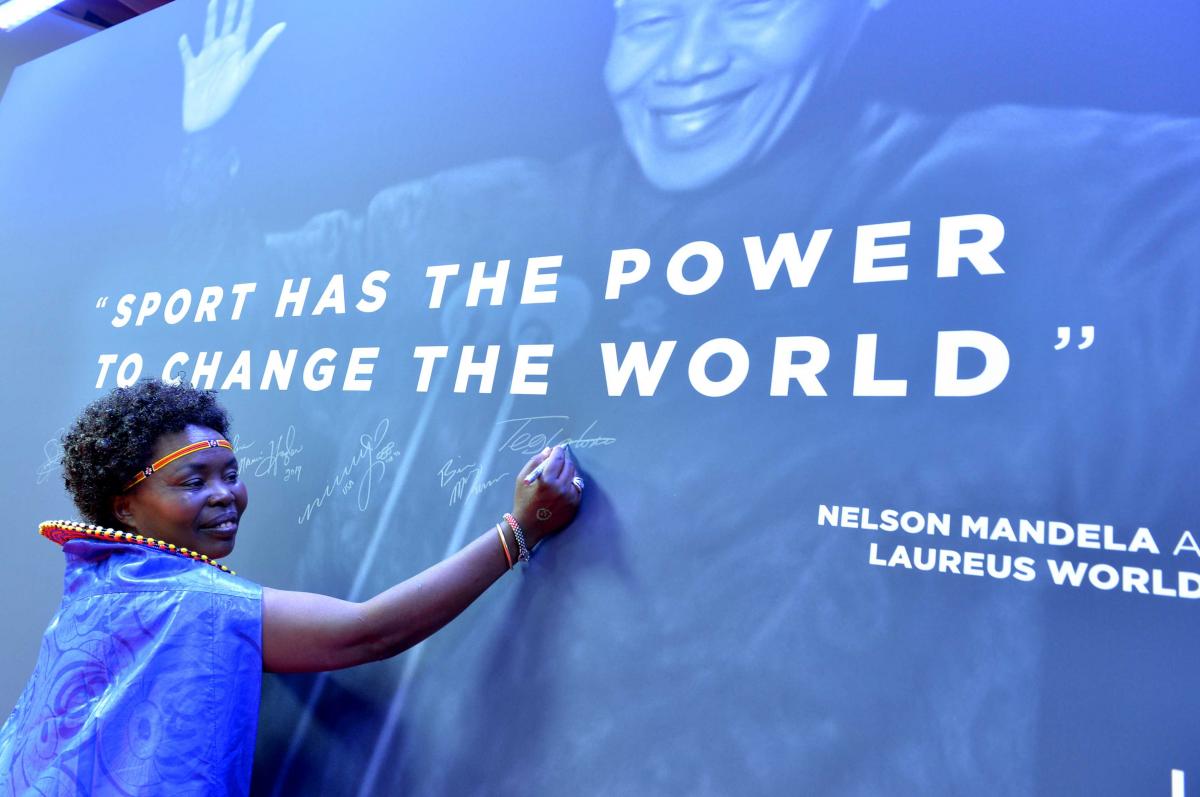 Tegla Loroupe signs the Nelson Mandela wall during the 2019 Laureus World Sports Awards 2019 in Monaco.
  (Credit: Christian Alminana/Getty Images for Laureus)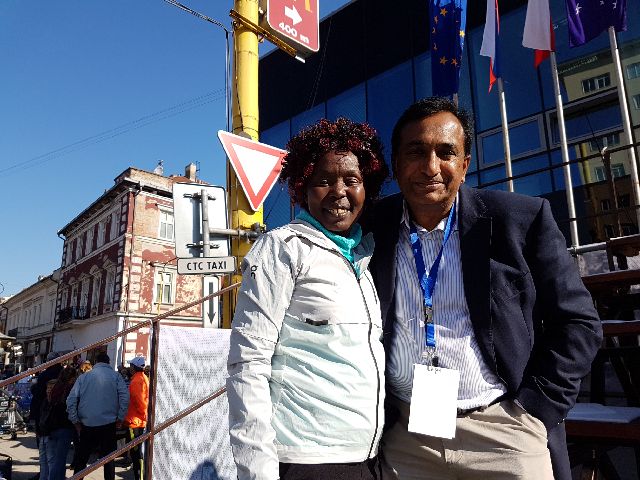 Suresh Jivan Gadher & Tegla Loroupe  - Laureus Foundation members
  Tegla holds the world records for 25 and 30 kilometres
                                     ..........and previously held the world marathon record.
                                   Tegla Loroupe Laureus Foundation    < CLICK TO VIEW 
   & mental health
"Besides pursing Proteomic - Genomic end goals, we also take interest in 'Human Endurance', 'Sports Medicine' and 'Societal Challenges' such as mental health - this is our uniqueness and differentiates us from others.  There is interconnectivity between what we strive for and everyday reality.  It reminds us that mental health is also an 'omic' of importance
'Mental Health'      
We celebrate 'World Mental Health Day' every year .............but do we understand much ?
Do we still brush 'mental health' under the carpet ?  .............if so, why ?
Mental health and Ageing ?  ................    Who will take care of the impacted ?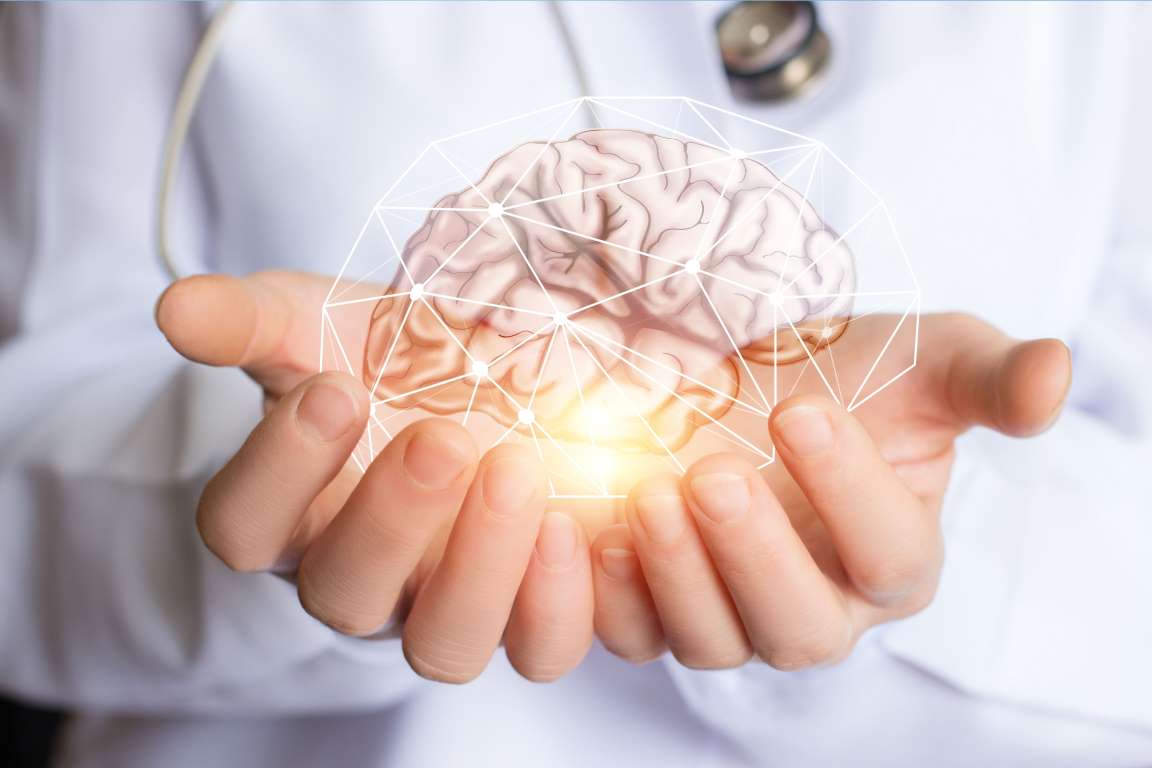 Please be gentle and understanding ! 
Impact of COVID-19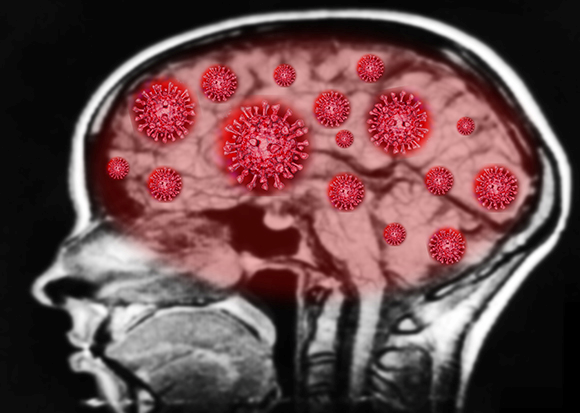 Meinhardt, J., Radke, J., Dittmayer, C. et al. Nat Neurosci (2020). https://doi.org/10.1038/s41593-020-00758-5
The presence of SARS-CoV-2 in nerve cells of the olfactory mucosa provides good explanation for the neurologic symptoms found in COVID-19 patients, such as a loss of the sense of smell or taste.  SARS-CoV-2 in areas of the brain which control vital functions, will have an exacerbating impact on respiratory function, adding to breathing problems due to SARS-CoV-2 infection of the lungs.
Interoception: the little-known sixth sense that looks inward
Interoception is one of several "new" senses that are now at the forefront of scientific and medical research. We are aware of sight, touch, smell, taste, and hearing and now Interoception because we're starting to understand just how much it impacts our well-being. If you don't recognize the physical signals the body gives off when you're experiencing anxiety, pain, and various other indication, then how can one take steps to prevent the trigger(s) to devastating disease outcome?  This approach may help better understand mental health and depression.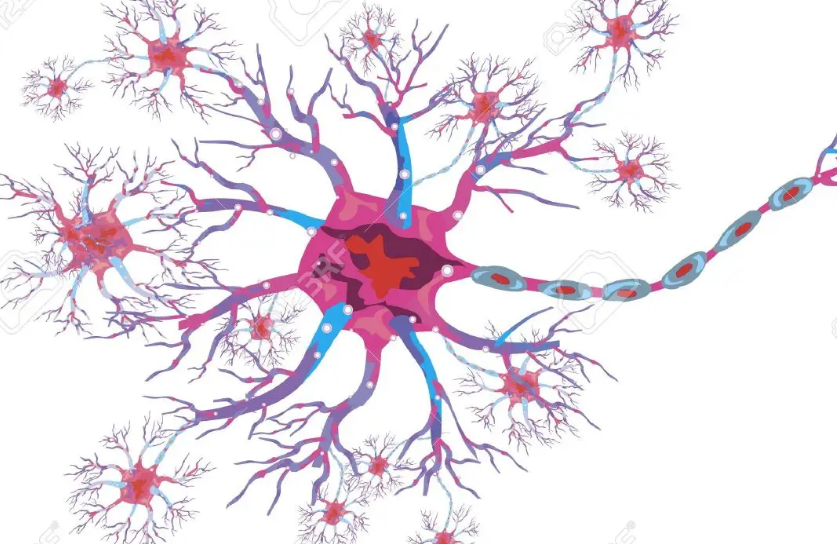 Post pandemic challenges in 2023 and beyond!